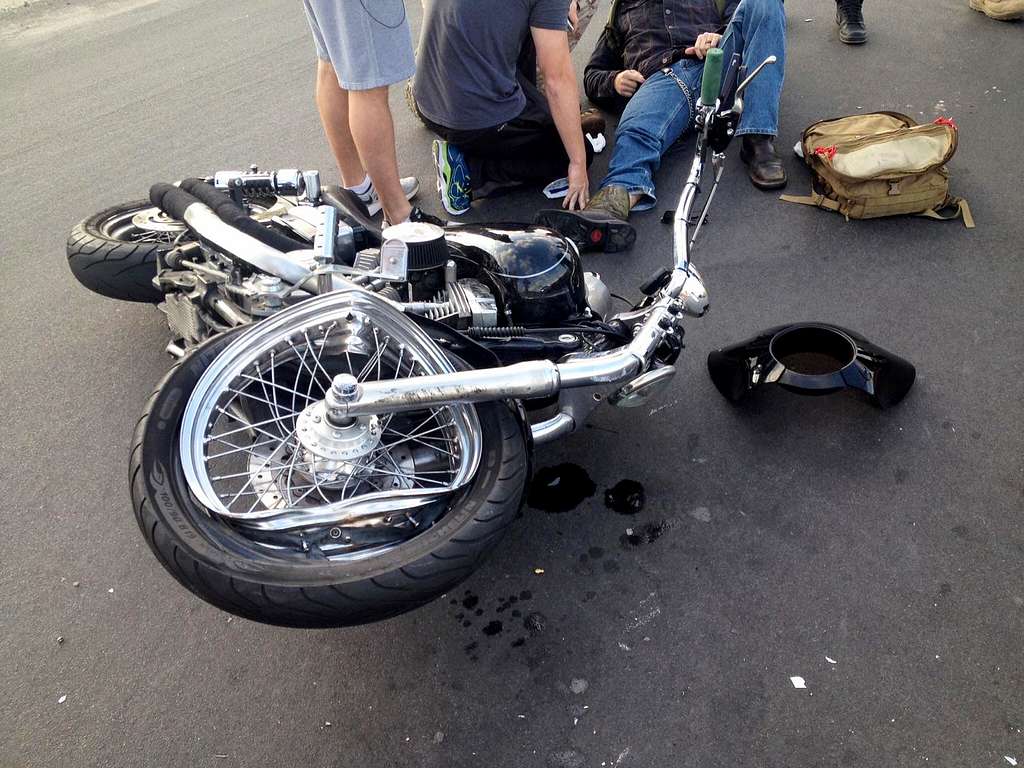 Motorcycle accidents are not necessarily more frequent than other types of accidents, but you are more likely to suffer serious injury or death. According to the federal government, in 2006, there were 35 times more deaths from motorcycle accidents than from car accidents. 
But Why?
The problem arises in part, because the motorcycle on the road is less visible and less stable than a regular vehicle.  
 Drivers often disregard the motorcycle rider, not allowing enough space, cutting off the motorcyclist and basically DISRESPECTING THE MOTORCYCLIST. 
56% of motorcycle accident deaths are due to crashes involving motorcycles and other vehicles.  In the vast majority of these accidents, the car strikes the motorcycle from the front 78% of the time. (The car strikes the motorcycle from the rear only 5% of the time.) Head-on collisions between a car and motorcycle are often fatal to the motorcyclist.
Some common causes of motorcycle accidents include: motorcycle speeding, lane splitting, and drivers of vehicles being distracted and oblivious to the presence of a motorcyclist on the road. 
But even  if the motorcyclist observes all the rules of the road, he or she can be  a victim of injury or fatality from a negligent vehicle driver. 
SAFETY TIPS FOR AVOIDING ACCIDENTS
As  responsible and experienced motorcycle riders know, taking safety seriously is critical to avoid accidents that can often lead to serious injury. 
Some common sense safety tips to always have top of mind:
MAKE YOURSELF MORE VISIBLE:
       Your body is exposed and more vulnerable in an impact.  You are not as visible in traffic, and vehicle drivers are not as aware of your presence on the road.
      Take extra precautions to be visible and avoid  crashes that can place your health and life in danger. 
 2. WEAR BRIGHT COLORS, LIKE RED AND YELLOW
3. TURN ON YOUR MOTORCYCLE LIGHTS, EVEN IN DAYTIME
4. STAY OUT OF THE DRIVER'S BLIND SPOT 
5. KEEP A SAFE DISTANCE FROM VEHICLES  AHEAD
6. AVOID  UNSAFE MANEUVERS  SUCH AS  LANE SPLITTING
7. LOOK OUT FOR CARS TURNING LEFT
     The single most dangerous situation for motorcyclists occurs when cars are making left-hand turns. These collisions account for 42% of all accidents involving a motorcycle and car. Usually, the turning car strikes the motorcycle when the motorcycle is:
going straight through an intersection

passing the car, or

trying to overtake the car.
     These types of accidents are common between two cars as well, but the motorcycle's smaller size makes it even less visible to the turning vehicle. 
    Motorcycles that pass cars within the same lane are even more vulnerable –cars don't expect, and are often surprised by, such motorcycle maneuvers.
     Almost always, a vehicle that hits another vehicle while making a left-hand turn will be found at fault for the accident. 
8. AVOID MAKING YOURSELF RESPONSIBLE FOR THE ACCIDENT
     If  the motorcyclist was speeding or in the wrong lane, the motorcyclist may be partly at fault for the accident.  In California, this means the motorcyclist will get less compensation from the driver of the car for injuries and damages caused during an accident.  Comparative fault will be assessed against the motorcycle rider if the biker is partly at fault  for the accident. 
Some Common Mistakes:
Being in the wrong lane
Lane splitting
Trying to overtake a car unsafely
Speeding
Riding while intoxicated 
Not giving a car the right of way 
Lane splitting:  a motorcycle drives between two lanes of stopped or slowly moving cars, usually in traffic jams. Lane splitting is a common cause of motorcycle accidents due to:
the close proximity of the cars to the motorcycle

the reduced space the motorcycle has to maneuver, and

the fact that the cars don't anticipate that any vehicle or motorcycle will be passing them in slowed or stopped traffic.
If your state does not allow the motorcyclist to do lane splitting, you can be held partially responsible for the accident, and this again can reduce your recovery when you make an injury claim.  Fault  may also be decided by the police and or a judge in your jurisdiction.  The issue is what was the primary cause of this accident and what role did the driver of car play vs. the role of the motorcyclist.  
WEAR A HELMET:  In California the law requires a motorcycle rider to wear a helmet that meets Department of transportation safety standards.  Statistically, you are at a much lower risk of death or serious injury if you wear a helmet. that wearing a motorcycle helmet significantly reduces the incidence of head injuries in accidents. According to National Highway Traffic Safety Administration, for every 100 motorcyclists killed in a crash while not wearing a helmet, 37 would have survived if they had been wearing a helmet. And that doesn't even count the enormous reduction in non-fatal injuries achieved by helmets.
Road Hazards Facing Motorcyclists 
Avoid road hazards. Road hazards, including debris in the road or slick conditions, are more dangerous for motorcycles than for cars and can lead to severe injuries. Motorcycles face higher dangers from road hazards than do cars.  Try to become aware of, and avoid  road conditions that pose hazards to you while riding a  motorcycle are; some common ones are: potholes, dead animals, slick pavement conditions, uneven heights between lanes, other irregularities or unexpected objects in the road.  
Consider a Training Course:  The Motorcycle Safety Foundation offers training. This is available and  sponsored by motorcycle manufacturers and distributors, works with the National Highway Traffic Safety Administration (NHTSA), state governments and other organizations to improve motorcycle safety through education, training and licensing. The organization also works with the states to integrate rider safety and skills in licensing tests. It promotes safety by recommending motorcycle operators wear protective gear, especially helmets, ride sober and ride within their skill limits. If you are a rider and complete this  approved safety courses you  may be eligible for insurance discounts.  That is a nice benefit, in addition to creating more safety for you and your loved ones. 
Antilock Braking Systems (ABS):

  This system allows a motorcycle rider to stop the motorcycle without the bike locking up and causing an accident.  Without this, a motorcycle that has separate front and back wheels, may cause the bike to lock up and crash, injuring the rider. The system automatically reduces brake pressure when a lockup is about to occur and increases it again after traction is restored.  According to

the  

Insurance Institute for Highway Safety

 (IIHS)  the rate of crashes is  much lower for motorcycles equipped with optional antilock brakes than for the same models without them.
IF YOU ARE IN A MOTORCYCLE ACCIDENT  REMEMBER THESE TIPS:
SEEK EMERGENCY CARE  AND  TRANSPORTATION TO EMERGENCY ROOM
ENSURE WITNESSES AND EVIDENCE ARE DOCUMENTED
MAKE A 911 CALL AND CALL POLICE TO THE SCENE
TAKE DOWN THE NAMES, ADDRESSES AND TEL. NO OF ANY WITNESS
SEEK OTHER MEDICAL ATTENTION
TAKE PHOTOGRAPHS OF YOUR INJURIES 
TAKE PHOTOGRAPHS OF PROPERTY DAMAGE
REPORT THE ACCIDENT TO YOUR INSURANCE
YOU DO NOT HAVE TO SPEAK TO THE THIRD PARTY INSURANCE
OBTAIN AN EVALUATION OF DAMAGE TO YOUR MOTORCYCLE
TAKE CARE OF YOURSELF FIRST 
DO NOT SETTLE YOUR CLAIM BEFORE YOU GET A FULL PICTURE OF YOUR INJURIES 
SEEK LEGAL REPRESENTATION  LIKE MONICA MARQUEZ, TO HELP YOU EVALUATE YOUR CASE AND HELP YOU GET COVERAGE FOR YOUR MEDICAL EXPENSES – WE CAN HELP YOU!  CALL US AT 760-753-0505! 
Please refer to the following for valuable information concerning statistics, safety standards, safety tips, rates of injury and death resulting from the operation of a motorcycle.
STAY SAFE AND PREVENT INJURY
Important Resources for Additional Information:
The Motorcycle Safety Foundations
Insurance Institute for Highway Safety 
National Highway Traffic Safety Administration 
The Motorcycle Industry Council
Advocates for Highway and Auto Safety
Sources for the information contained in this section include the following:
Sources: U.S. Department of Transportation, National Occupant Protection Use Survey, National Highway Traffic Safety Administration's National Center for Statistics and Analysis